Published March 12, 2021 | Updated August 3, 2023 | 4 minute read
In June 2020, millions of people across the United States, joined by many more around the world, gathered to protest ongoing police violence and America's long legacy of anti-Black systemic racism. These protests brought new attention and urgency to an ongoing movement for racial justice. For many organizations, this was a tipping point. They started to move beyond messages of support, and began to take accountability for their role in upholding systems of oppression.
What did 2020 reveal about what is possible?
When it comes to truly dismantling the systems of racial oppression in the U.S. and around the world, there is so much work still to be done. The shift that some organizations started in 2020 is only a tiny sliver of a lifelong journey. And, at first, initial responses to the calls for racial justice were superficial. Company communications and marketing departments got to work quickly drafting carefully worded statements of support, without taking responsibility.
But, unlike other recent moments of protest and activism in support of racial justice, the coalition of people calling for change this time was broader and their voices were more determined than ever.
A few organizations went beyond empty messages to candidly acknowledge their responsibility and what was at stake. Ben & Jerry's was one example.
Organizations who engaged in a true reckoning reassessed their actions as allies to those on the front lines of the fight for racial justice. Going deeper than surface-level communications and gestures, organizations confronted how racism lives within their own organizational cultures.
They asked: Who makes decisions at the highest levels of the organization? Who controls the finances? Whose perspectives and experiences are at the center of the culture? Cisco, for example, committed to 12 specific actions to address their role in furthering social justice.
Importantly, some organizations looked closely at how systemic oppression conspires to make it easier for some people to get ahead while unfairly making it harder for others. They began to analyze and take initial steps to address how structural racism makes it more difficult for many people to access influence and power.
It is only a small first step, but organizations are beginning to move forward by learning and adopting new behaviors and practices that help them operationalize racial justice.
Putting it Into Practice
A national foundation working in the public education sector committed to a broad culture transformation focused on improving diversity, equity, and inclusion internally. August began our partnership by facilitating an Equity Learning Summit. There, leaders identified different equity needs, explored different personal definitions of equity, and identified opportunities to redesign core processes with a racial equity lens.
Next, we led a 6-month learning cohort for all managers to increase foundational knowledge of equity and inclusion topics. This cohort also applied a new set of practices for everyday work that center racial equity and inclusion. These practices led to more transparent decision-making and honest conflict about the organization's big-picture strategy. Throughout the engagement, we also helped leaders get unstuck through one-on-one coaching.
Getting Started
The collision of the COVID-19 pandemic and the protests for racial justice in 2020 showed us how critical it is to ensure that we are making it as easy as possible for all people to contribute to the work of our organizations, regardless of who they are. You never know where the next great idea is going to come from.
And 2020 helped organizations recognize the cost – in lost ideas and untapped creativity – that we pay when we allow systemic racism to persist. Talent and intelligence is wasted or excluded. Innovation is thwarted. Success is blocked.
Even more important, however, than this potential impact on business performance is the cost in lost humanity. Every day, team members who hold more marginalized identities are made to feel less valuable than their more privileged colleagues.
We found three specific practices that enable organizations to operationalize their intentions to become more equitable.
A simple, but powerful, practice we call Rounds makes it easy for everyone at a meeting to be heard.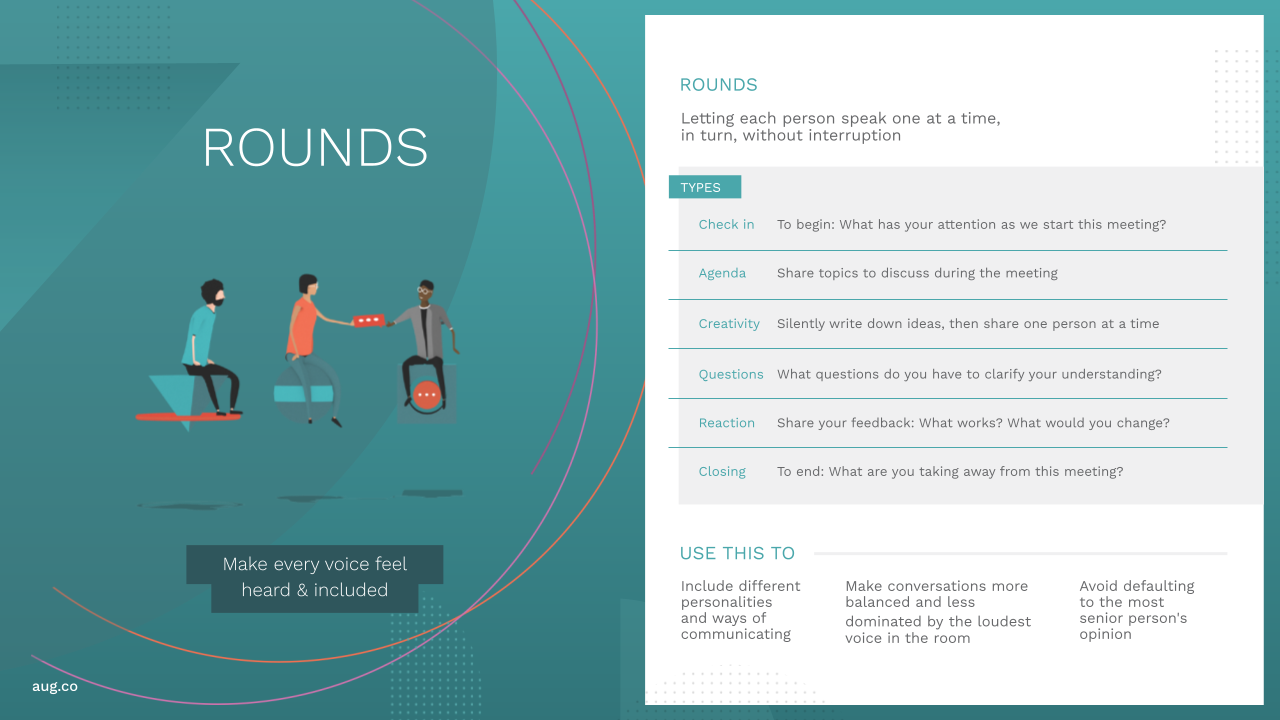 Take Space / Make Space reminds people to check their communication biases, and steer toward more balanced conversations.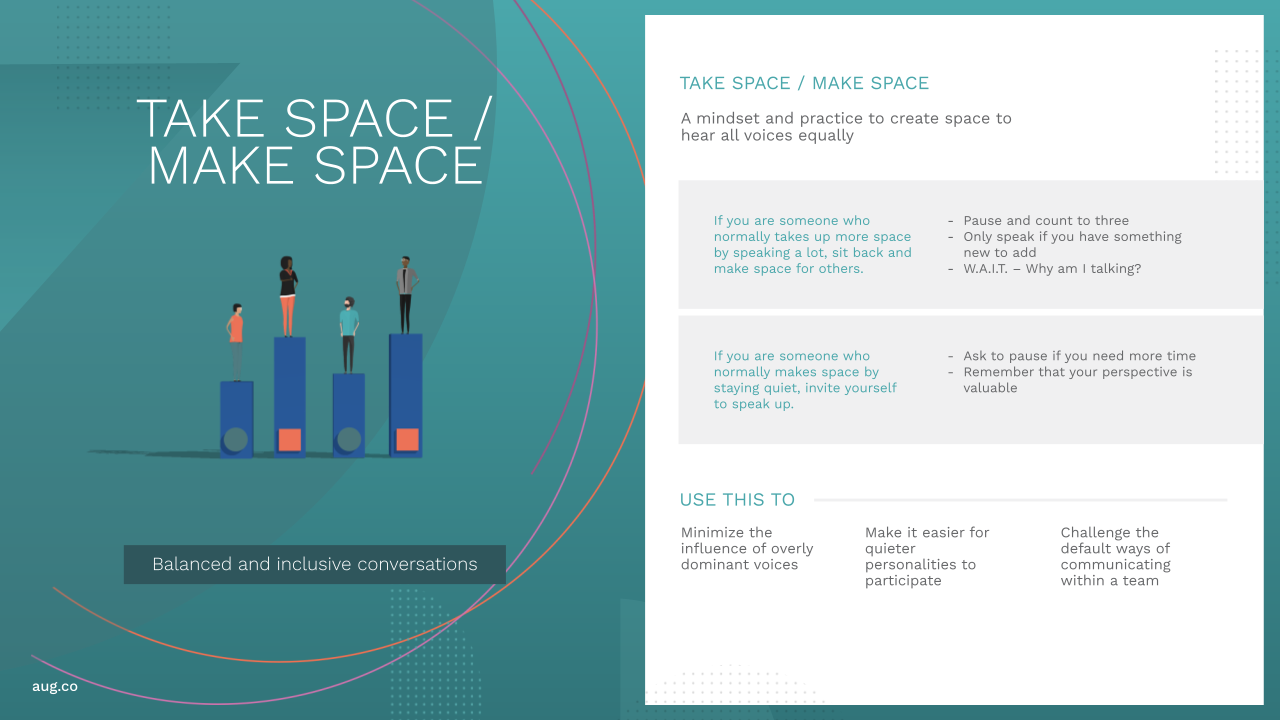 Intent vs. Impact is a clear way for team members to appreciate the difference between what we may want for each other and the true effect that our actions may have.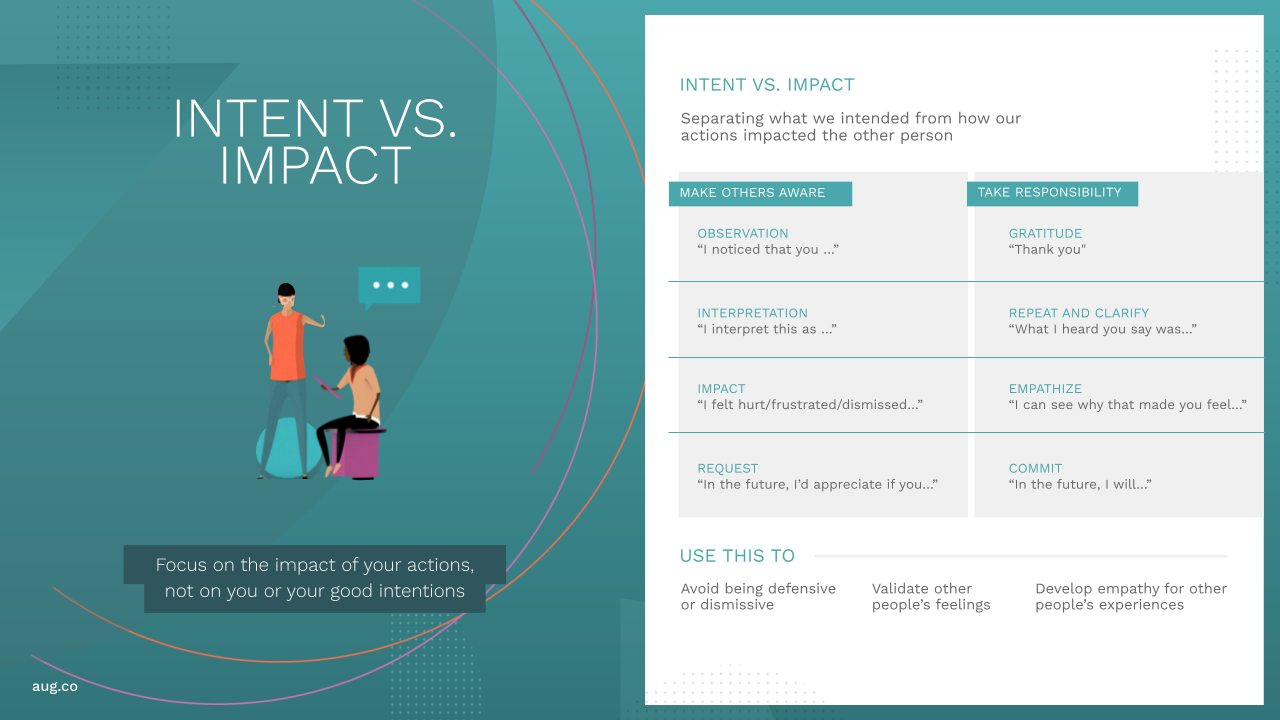 This is #5 of 5 shifts in our Playbook: New Ways of Working for 2021 and Beyond. Check out the rest of the practices here: