Published May 13, 2021 | Updated May 13, 2021 | 2 minute read
We hosted our company board meeting last week and unsurprisingly the focus of conversation was around hybrid work. Last year, organizations across the world had to act quickly to shift their ways of working in response to the COVID-19 crisis. Now, leaders face a pressing, global challenge- what does the future of (hybrid) work look like?

At August we've been thinking about the future of work for some time. We were founded to help organizations make work more human, responsive, and agile so organizations could thrive in the 21st Century. And while in this unprecedented year it's easy to feel like the hybrid workplace presents a new and unknown challenge, we believe that the core issues at the heart of current hybrid work questions are not new.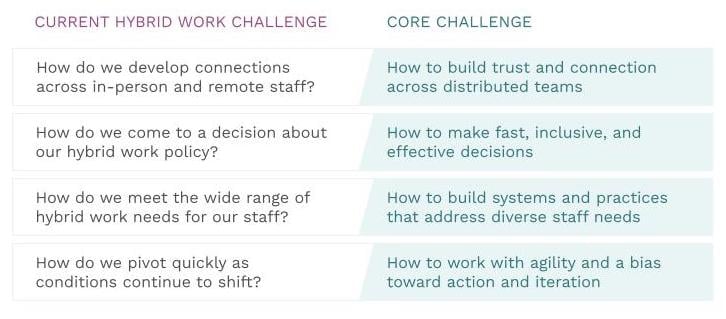 We help organizations to build psychological safety, empower decision makers, operationalize equity and inclusion, and develop agile ways of working. Each of these areas offer practices that we believe provide a starting point for addressing the current, pressing challenges around hybrid work.




We hope these resources will help to get you started addressing your pressing needs around the hybrid workplace. We'll be releasing more resources around the hybrid workplace and the future of work over the spring and summer. In the meantime, reach out to team@aug.co with any questions or needs.